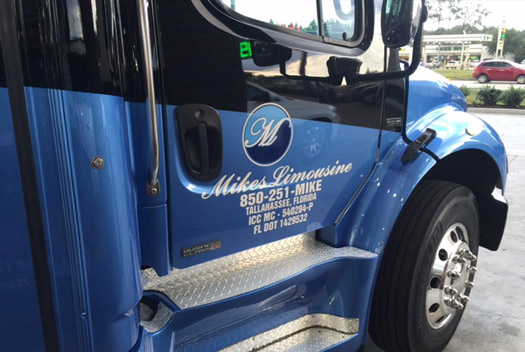 35 Passenger Ameritrans M2 Charter Bus
Tallahassee's newest mid sized charter bus. Our Ameritrans M2 Mercedes Benz charter bus seats 35 passengers with luggage and level 7 luxurious seating with footrest and reclining seats.
Amenities include overhead TV monitors and a large 20″ flat screen in the front of the coach. There is a 36″ rear luggage compartment and luggage trailer for large cruise trips. The coach is GPS and navigation equipped.

Direct TV, WiFi and outlets through this coach
The coach features air ride suspension and extra wide 102″ coach with wide seats and isle, as well as a kneel feature for easy entry and exit from the coach. This is a fast road worthy bus to get you to your destination safely and efficiently. It is ultra clean and meticulously maintained.
Click on images below for a detailed view.